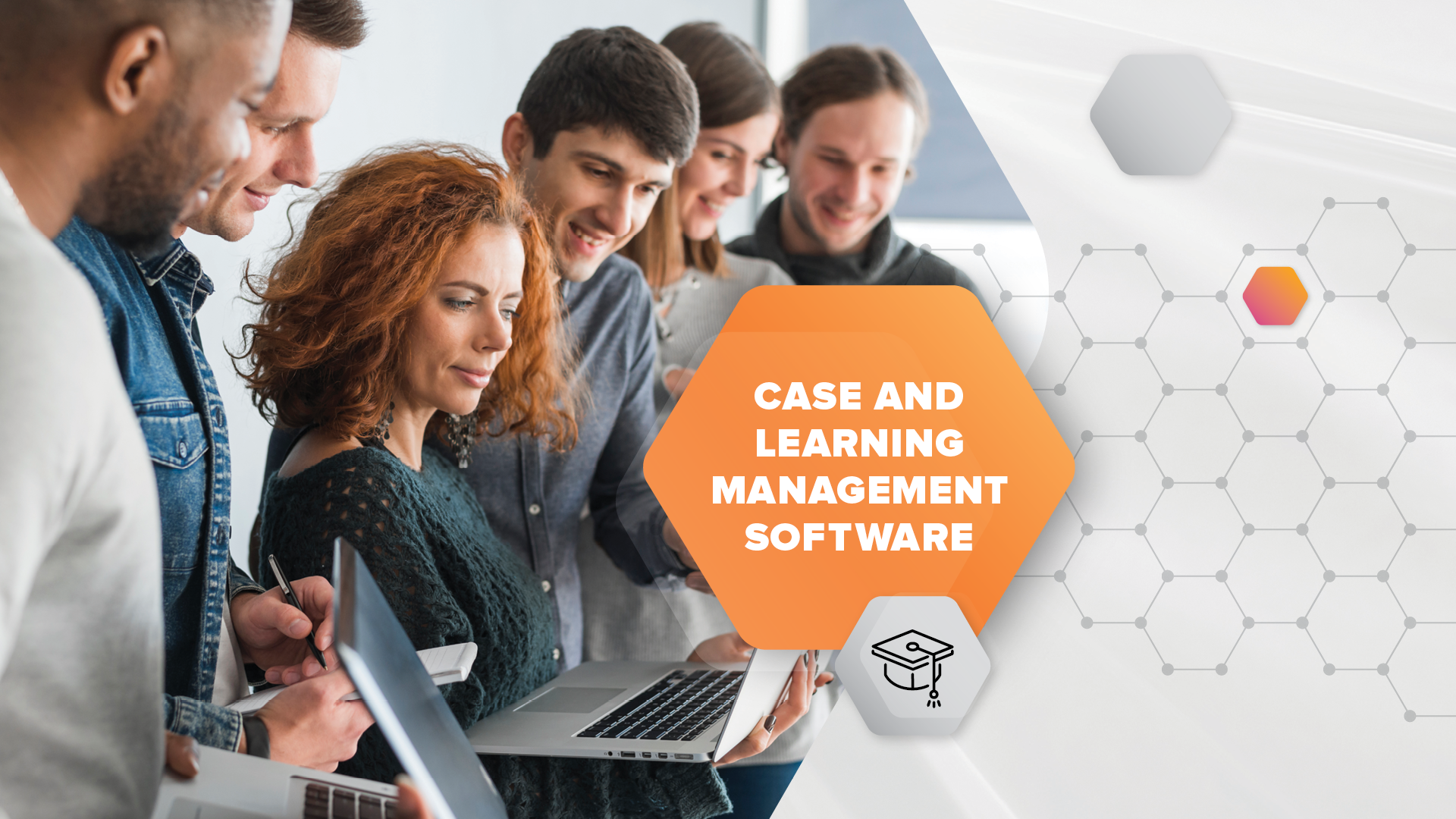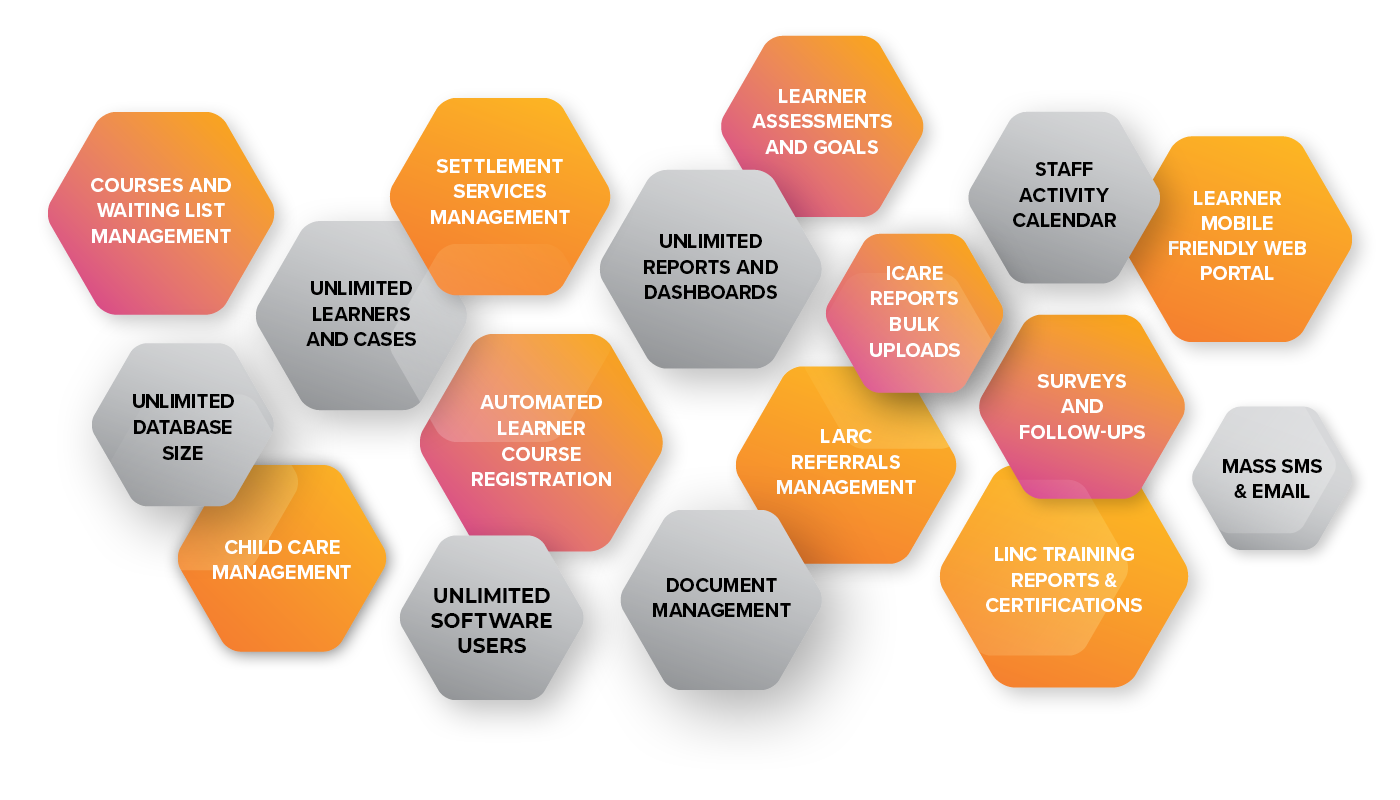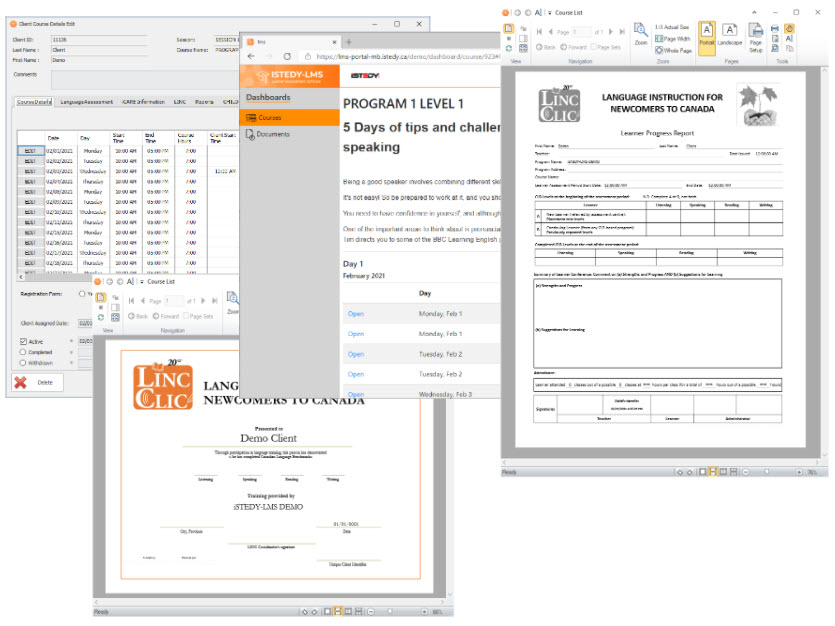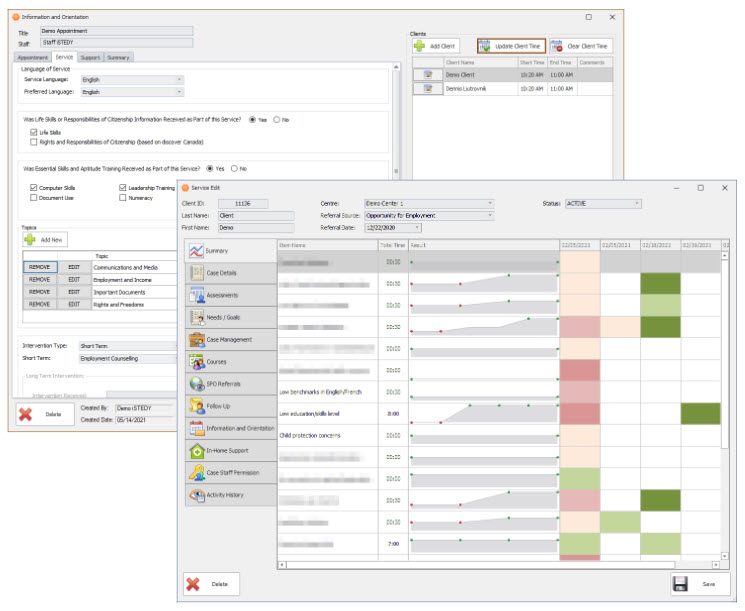 Employment Related Services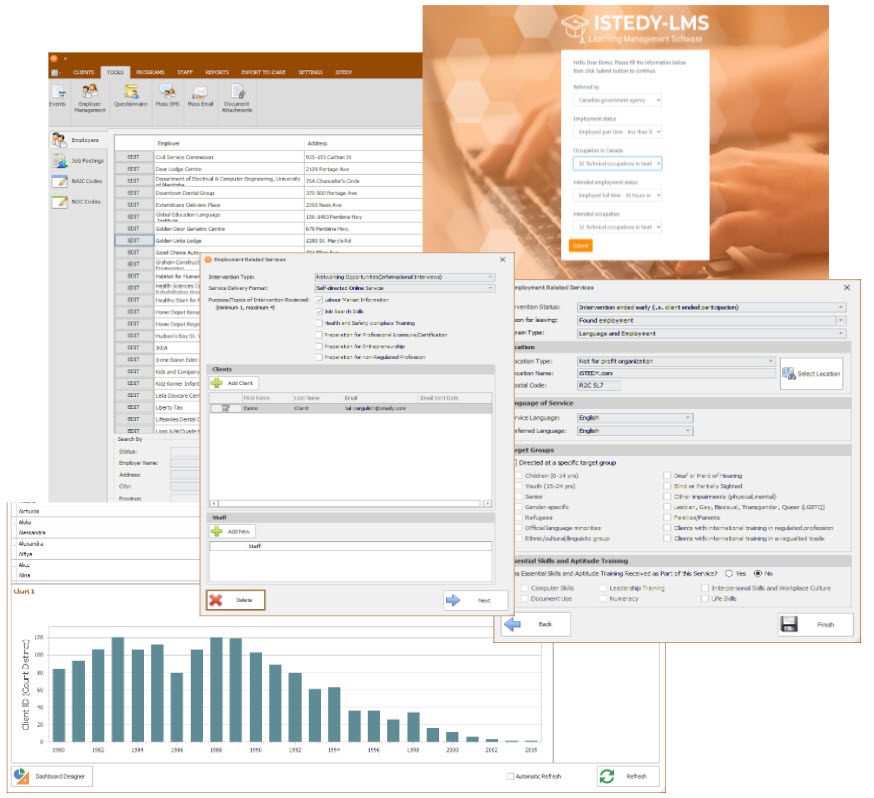 KEY FEATURES
PARTICIPANT PROFILE & CASE MANAGEMENT FUNCTIONALITY
New Participant Intake
Participant Profile
Demographic Information
Contact Information
Family Members Information
Education Information
Employment Information
Immigration Information
Case/Services Management
Case Summary Dashboard
Case Details/Goals
Participant Needs Assessments
Case Management & Notes
Courses & Attendance
LINC Progress Report
LINC Conference Summary
LINC Certificate
Information and Orientation
Settlement Services
Report Cards
Community Connections
Volunteers Management
Follow-Up
Document Attachments
LINC Progress Reports send by bulk emails
LINC Conference Summary send by bulk emails
Print mail envelope with participant address
Employment Related Services
and much more…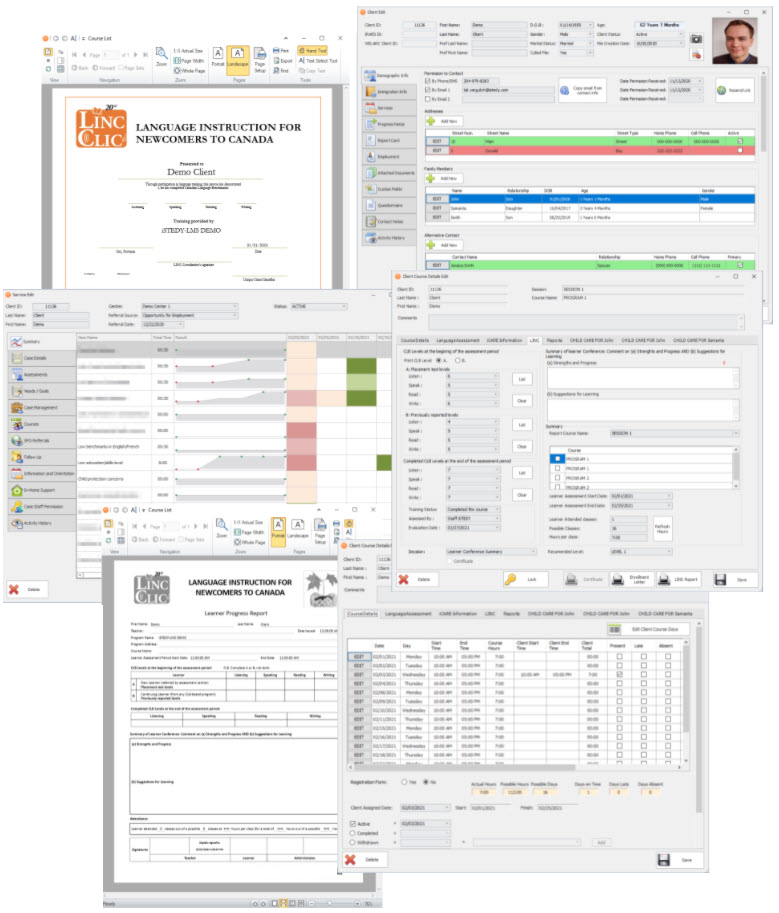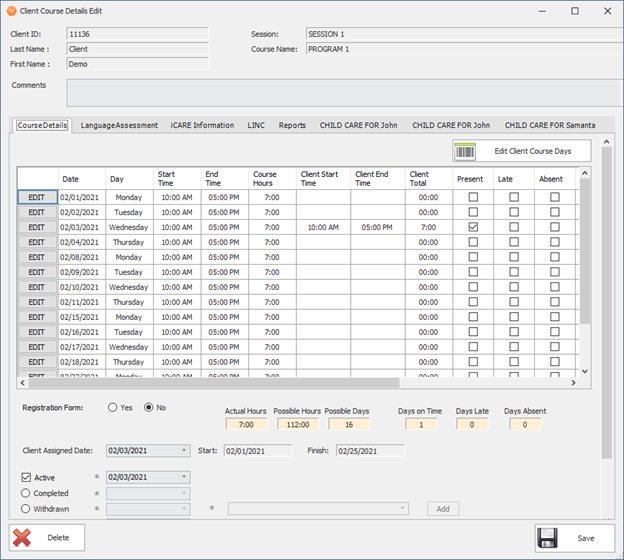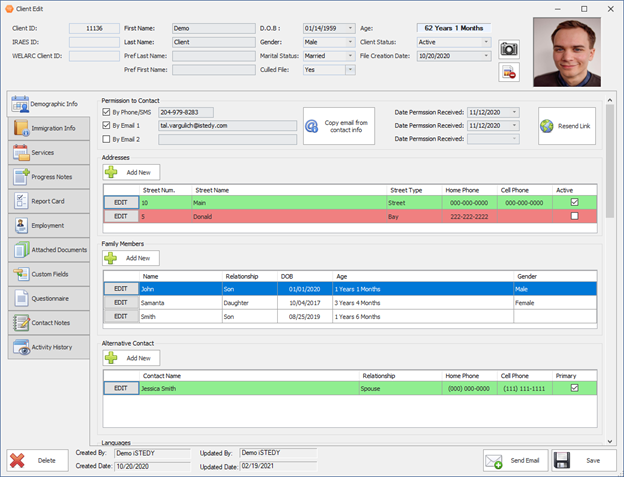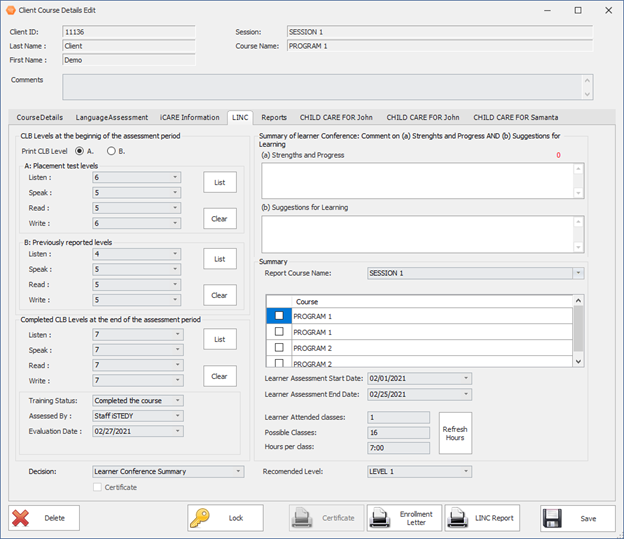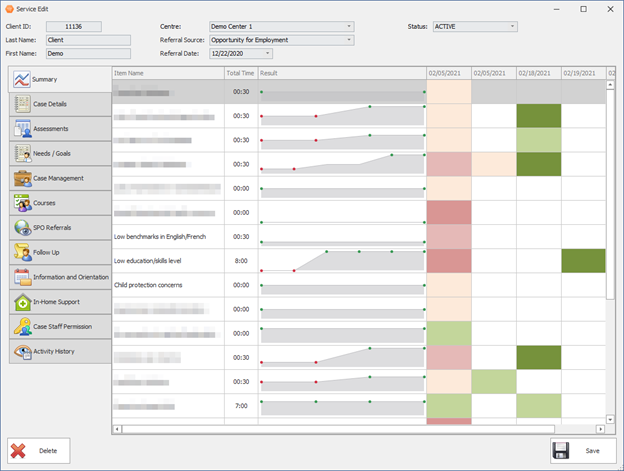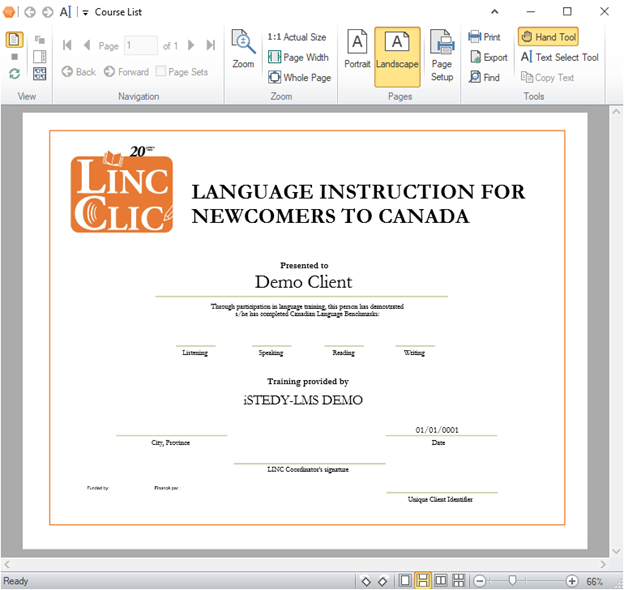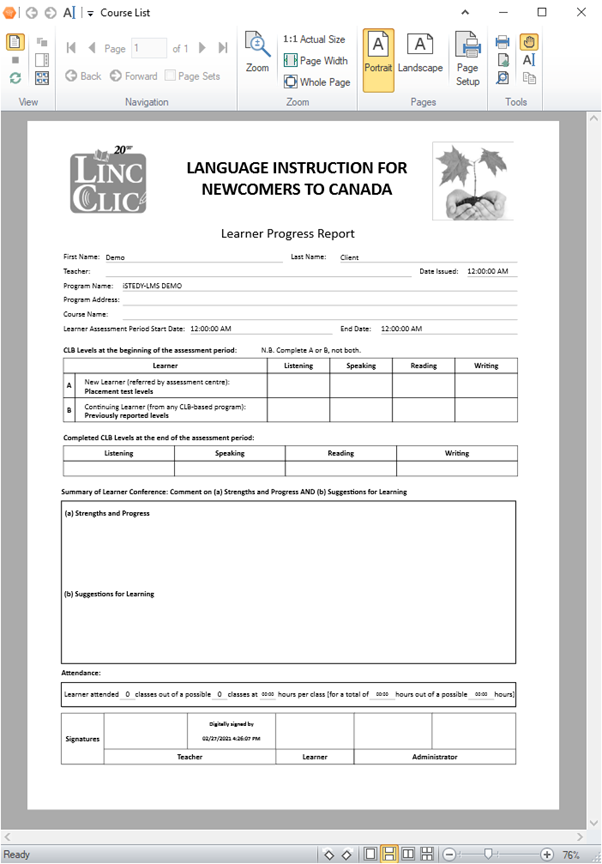 STAFF ACTIVITY CALENDAR
Staff Course Schedule
Participant Class Daily Attendance
Automated Participant Absence reason follow ups
Information & Orientation Schedule
Employment Related Services Schedule
Case Management Schedule
Course Online Content Management
And more…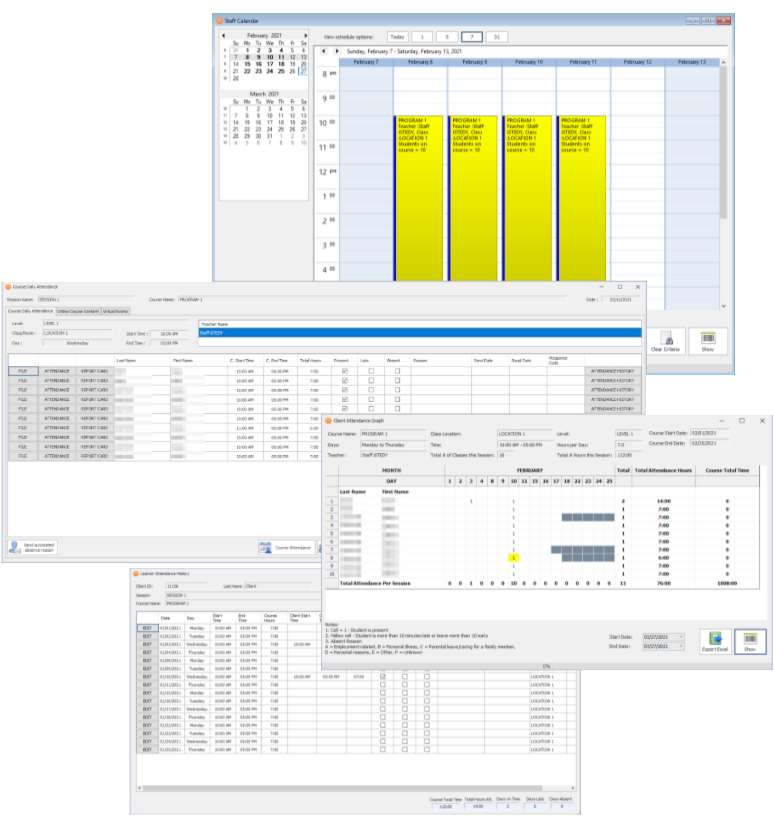 QUESTIONNAIRE(SURVEY) MANAGEMENT
Questionnaire library set up and management
Questionnaire History
Questionnaire Reports
Questionnaire Send to Participants by Email or Text (SMS)
Questionnaire Answer Type: (Single choice, Multiple choices, Free text)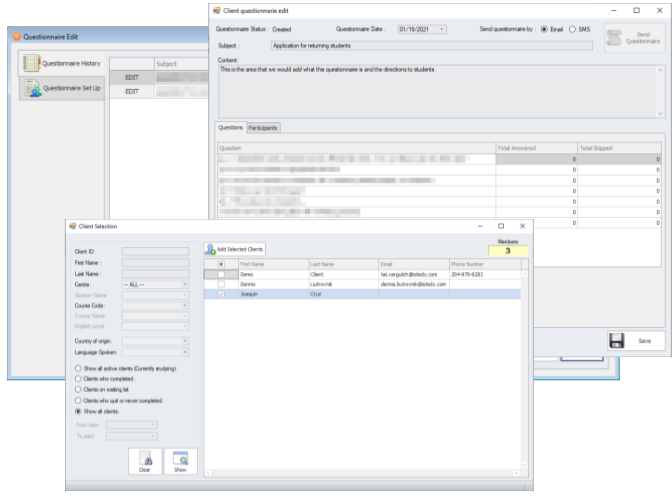 iSTEDY-LARC CLIENTS REFERRALS MANAGEMENT
New Referrals Management
Contact Made Management
Accepted Participant Management
Assign to the Course Waiting List
Share Participant Contact made status to other SPOs
Request participant to provide documents with a secure way by using iSTEDY-LMS WEB Portal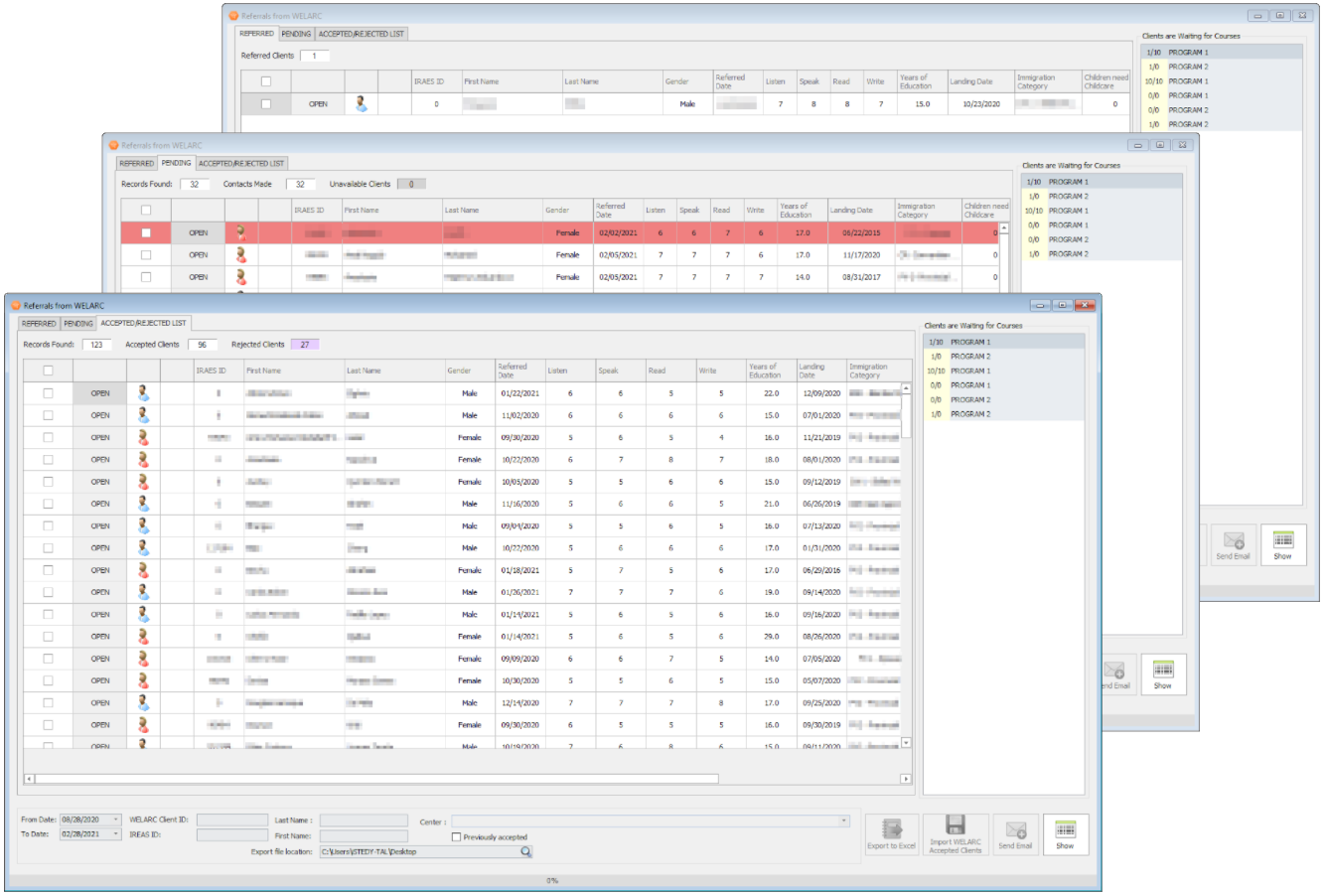 COURSE WAITING LIST MANAGEMENT
Course List with a registration summary
Course Waiting List
Accept Participant to the Course
Accept Participant Child to the Childcare
Transfer Participant from Course to Course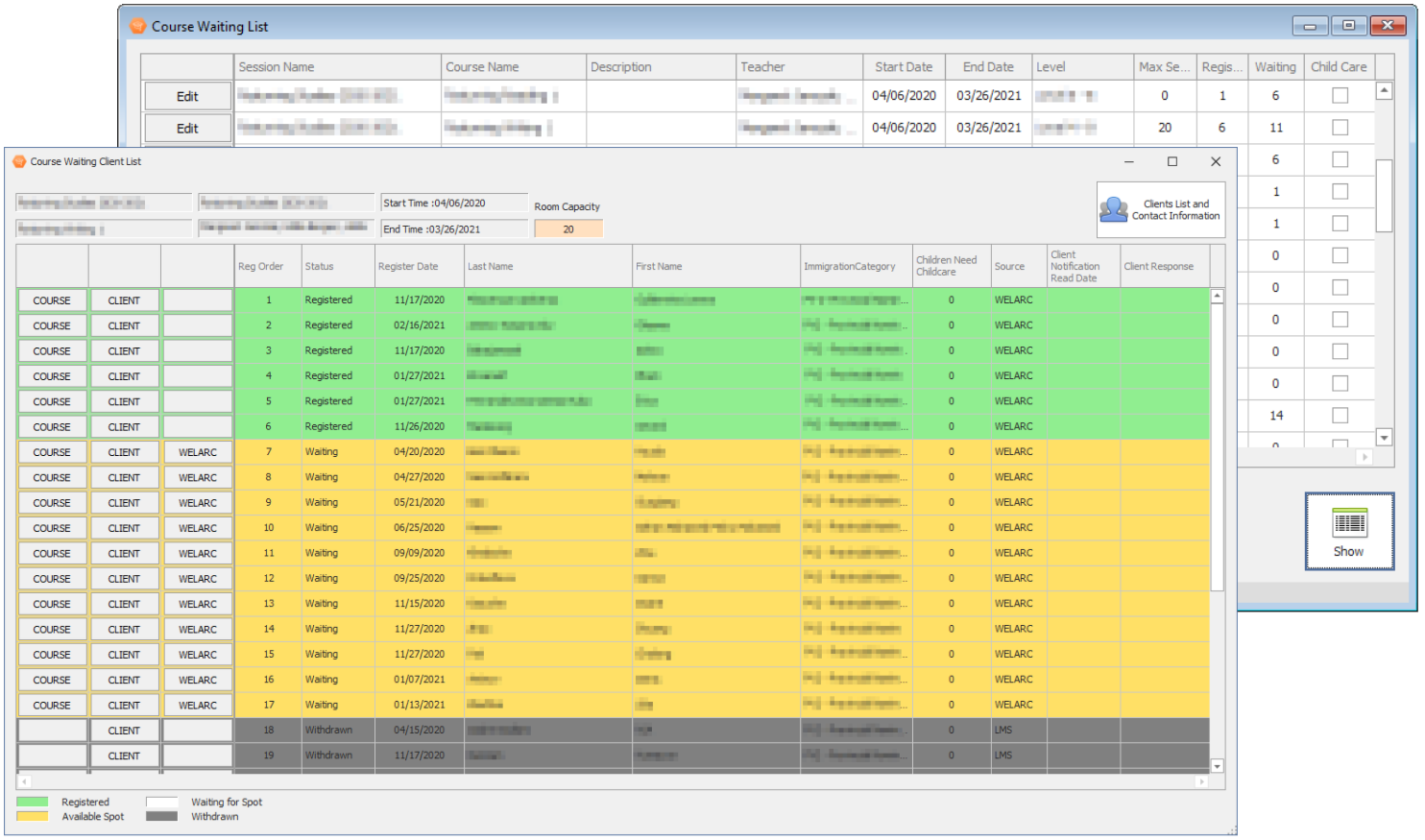 CHILDCARE MANAGEMENT
Childcare Waiting List management
Childcare Calendar
Childcare Attendance
Child Drop Ins management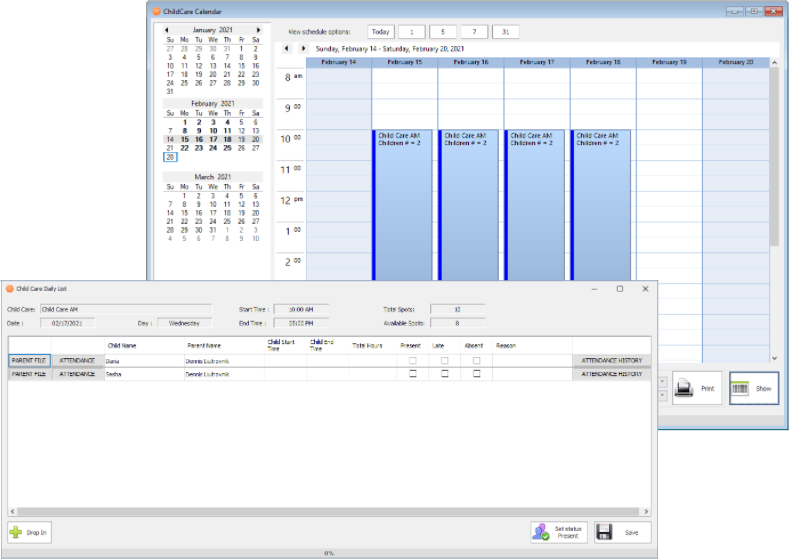 MASS EMAIL MANAGEMENT
History of all mass emails
Email document attachments
The ability to send up to 20,000 emails with one click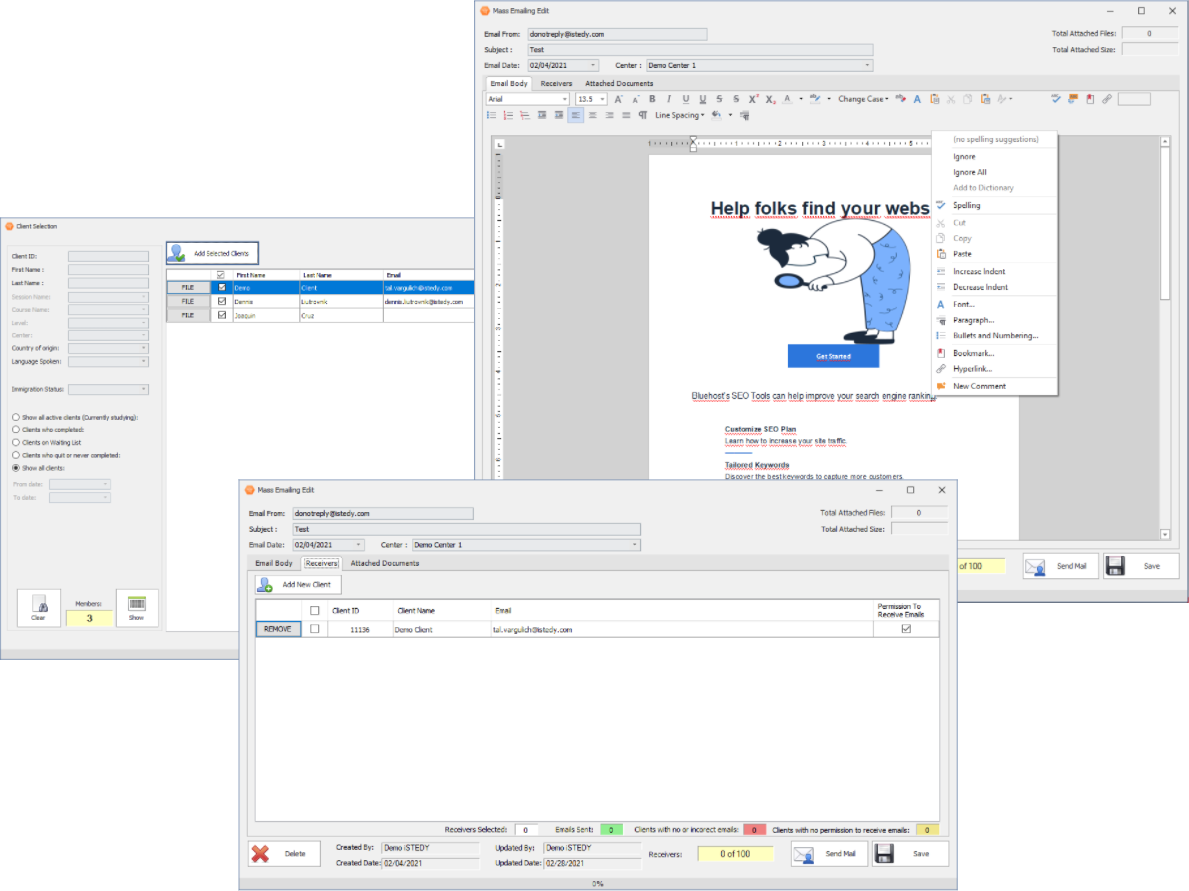 MASS TEXT(SMS) MANAGEMENT
History of all mass SMS sent
The ability to send up to 10,000 SMS with one click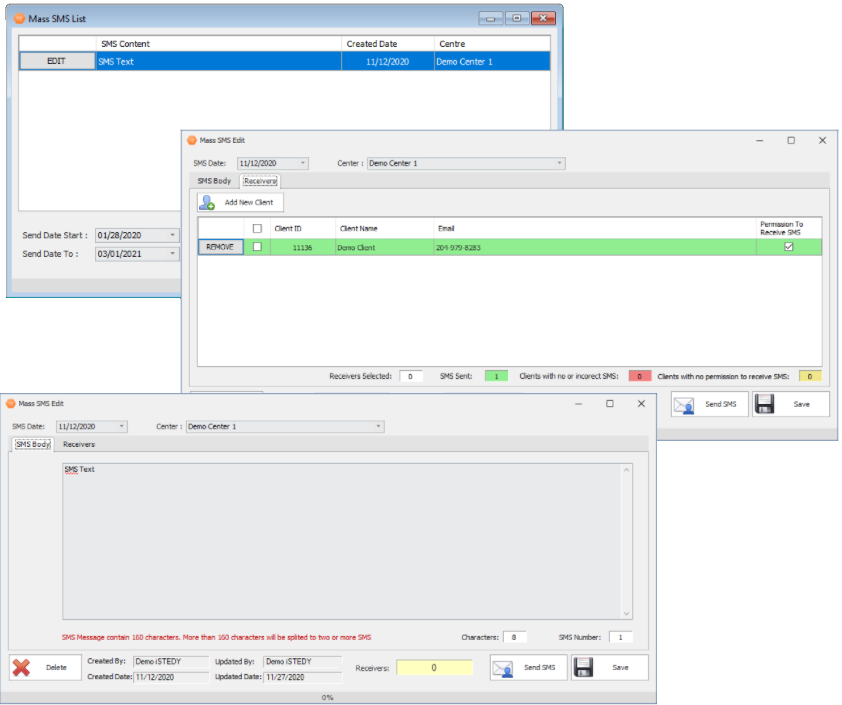 BI - BUSINESS INTELLIGENCE (CUSTOM DASHBOARD AND REPORTS)
Reports and Dashboard Viewer
Reports and Dashboard Designer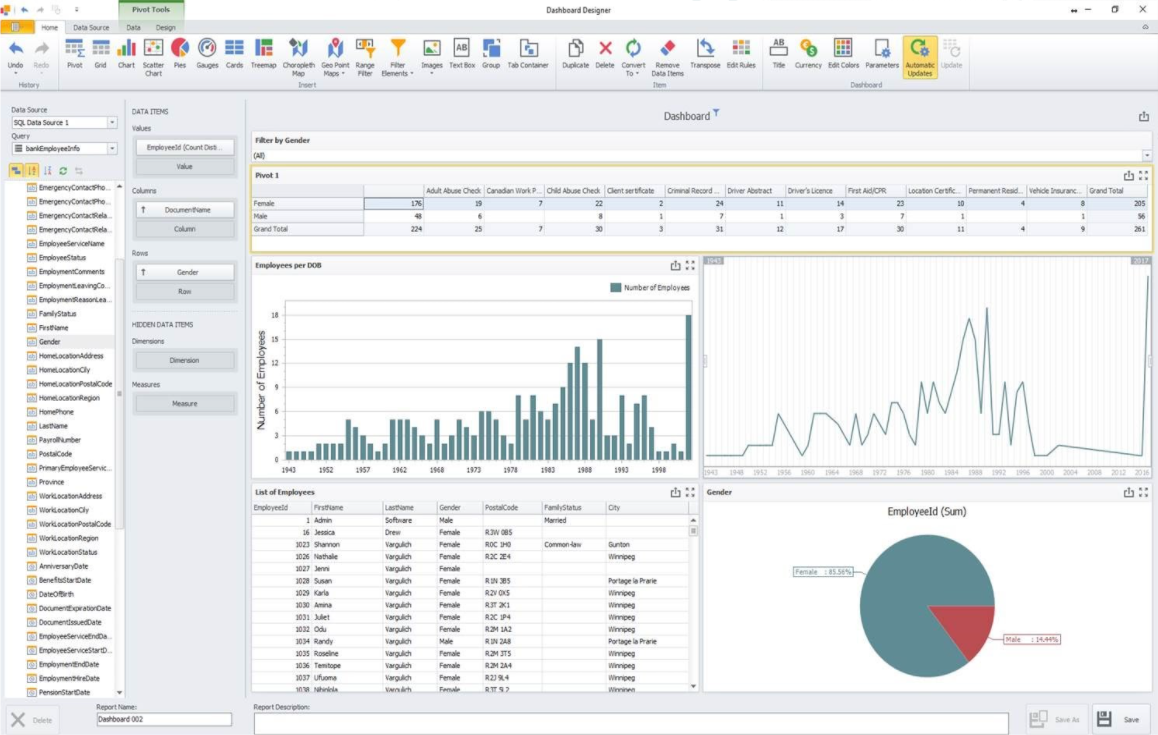 OTHER REPORTS AND DASHBOARDS
Course Summary Report
Absent Reason Report
Report Card Report
Referred Students Education and Employments History Report
LINC Reports
Settlement Worker Report
Current LINC Snapshot Report
And more.

EMPLOYER & JOB POSTINGS MANAGEMENT
Employer Information Management
Employer Job Posting Management
NAIC Codes Management
NOC Codes Management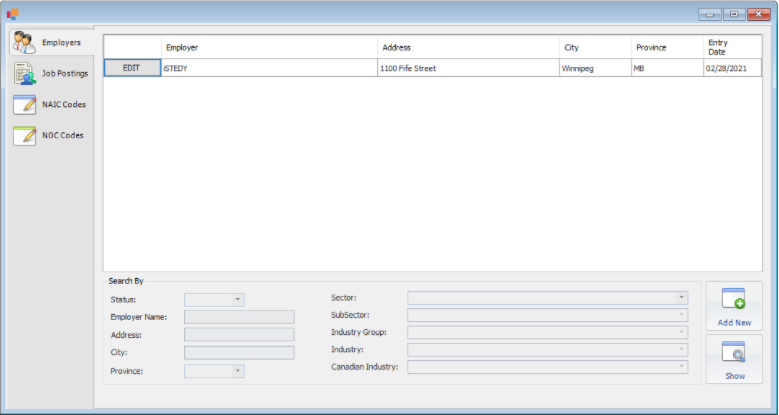 EVENTS VOLUNTEERS & FUNDRAISING MANAGEMENT
Events Scheduler
Events Setup and Required Services Management
Volunteer Management
Event Services Management
Fundraising Members Management
Members Contributions Management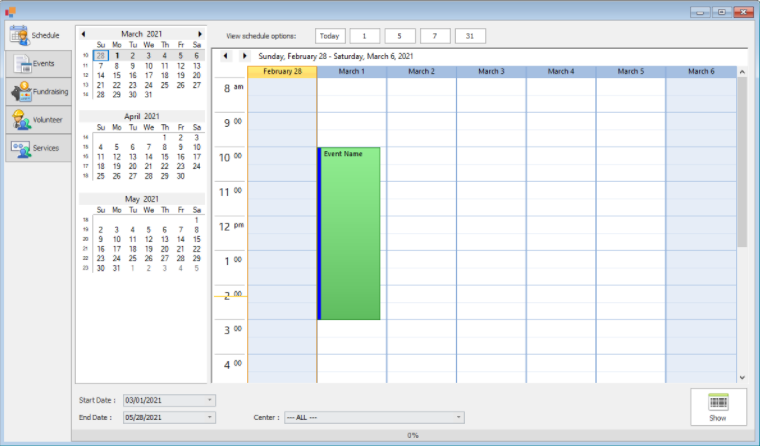 ORGANIZATION DOCUMENT MANAGEMENT
Scanned or Attached Documents Management
All document accessible based on user permission
Direct connection to the office or personal scanners
Scan from the web cameras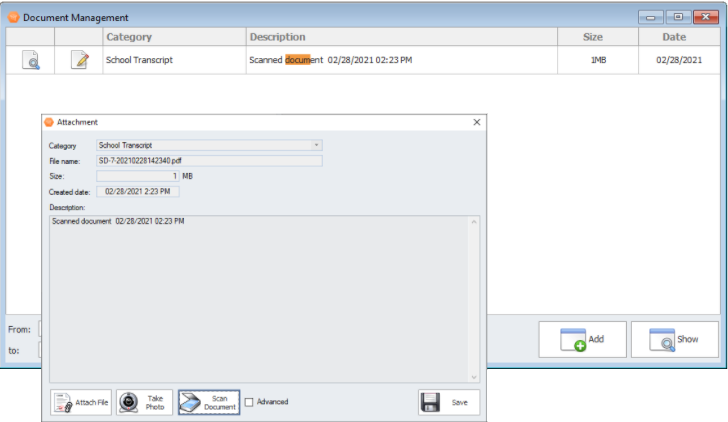 iSTEDY-LMS PARTICIPANT MOBILE FRIENDLY WEB PORTAL
Participant Personal Online Account
Participant Courses List
Course Schedule
Course Content
Requested document upload
Online Classes Shared Links
Class Shared Documents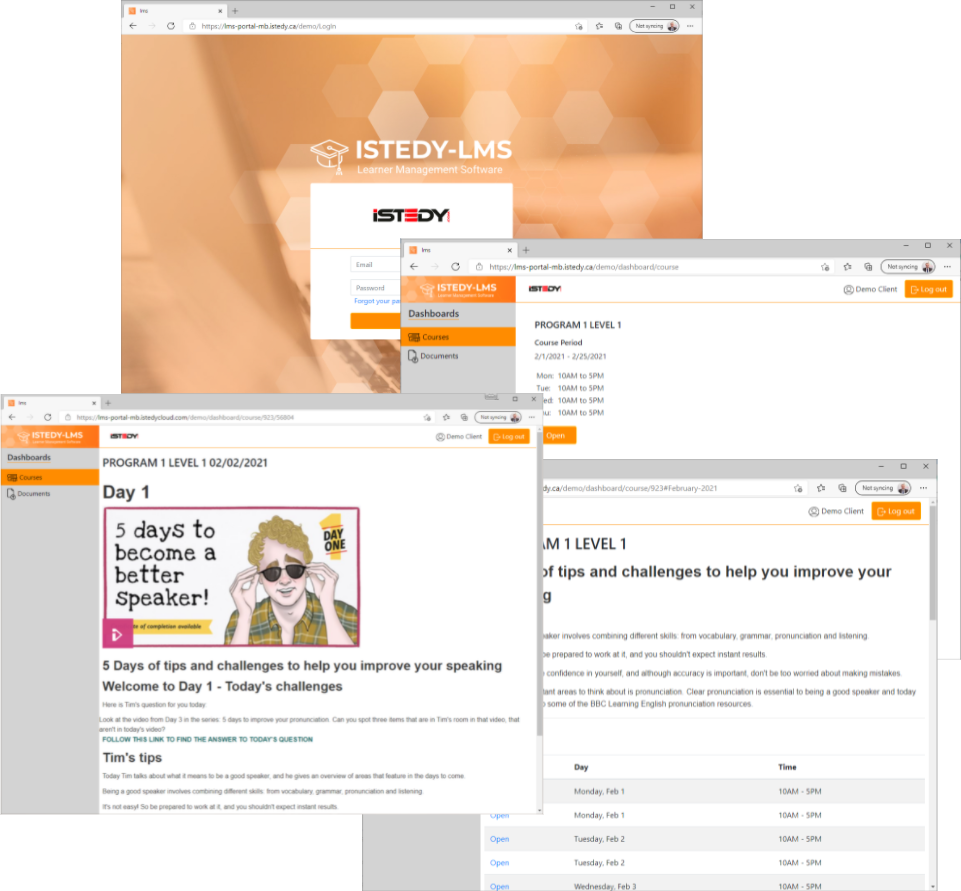 iCARE BULK UPLOAD REPORTS
Client Profile Report
Client Enrollment Report
Client Attendance Report
Client Exit Report
Course Setup Report
Course Close Report
Information & Orientation Report
Employment Related Services Report
and more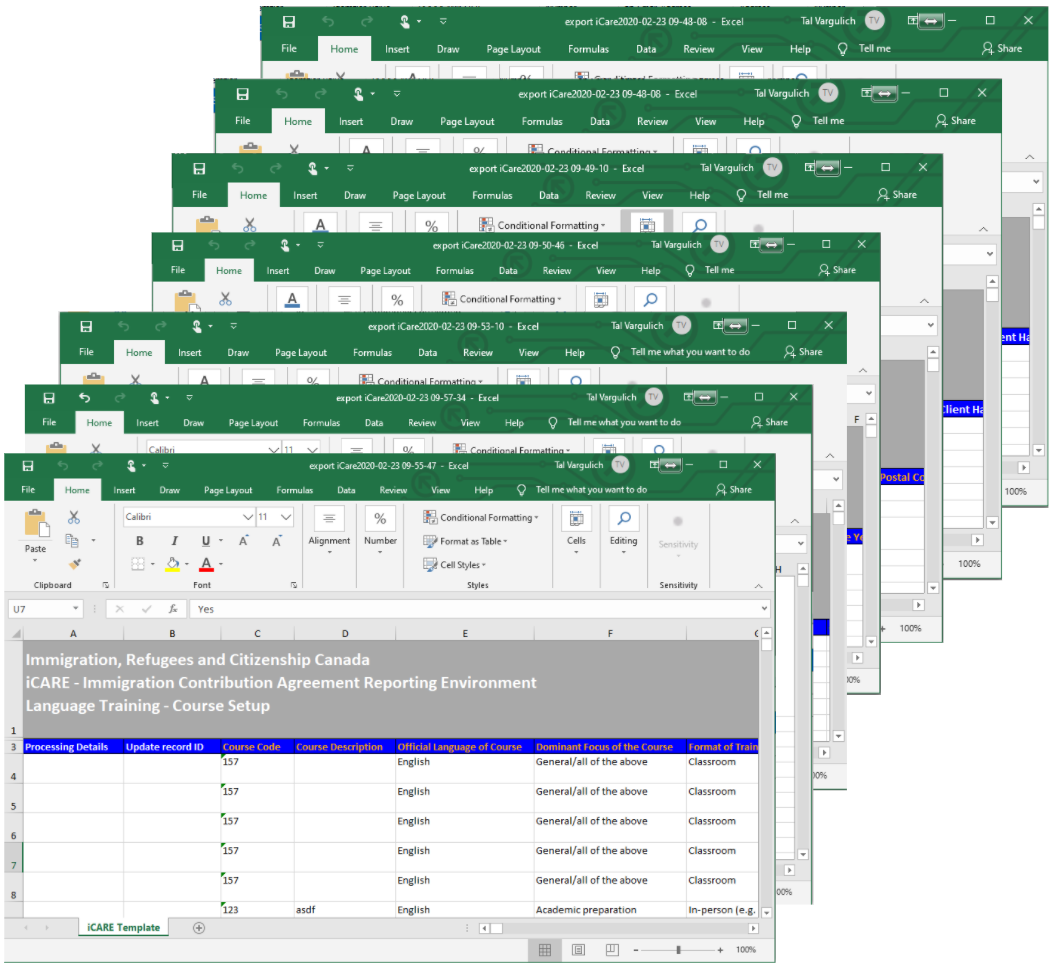 BACKGROUND AND CHRONOLOGICAL DEVELOPMENT OF THE PROJECT
iSTEDY provided EESE with an effective and encompassing tool for managing all the mechanics of student registration, study progress and attendance history. It has greatly helped to coordinate the services of our school with immigration and English language support agencies throughout the province of Manitoba, right to the specific needs of individual students. The application is successfully shared by a diverse community of immigration service providers, each of which play a unique role in welcoming newcomers to Canada and providing cultural and language skills to help newcomers to thrive.
In one place, we have records of class space, student histories, payroll and budget, an automated interface to report key results to our funder: all the day-to-day information we need to make decisions about individual students as well as the broad-view data that clarifies the role of our school in the network of immigration services and which allows us to fashion our school to provide the best possible contribution as we move forward.
Thanks to iSTEDY, we have improved efficiencies and ensure we have comprehensive outcomes to support our services.
Louise Giesbrecht
Executive Director
English at Work Program (EAW)
Enhanced English Skills for Employment (EESE)
Should you have any questions or need more information about our products, please do not hesitate to contact us anytime.
GET IN TOUCH
Megamind Office:     1100 Fife St, Winnipeg, MB R2X 3A5, Canada
Head Office:     200 – 5 Donald St, Winnipeg, MB R3L 2T4, Canada